Drapery panels are a classic and timeless window treatment. Drapery panels can provide form or form and function. Panels can be pleated, rippled, gathered, flat, grommeted or tabbed. Frame your window with Stationary Drapery Panels or use Functional Drapery panels to cover your window for insulation and privacy. With a wide variety of lining options Drapery panels allow you to control the light that comes into your room. Let some light in, block out all the light or use an insulated lining to keep out the cold. Drapery panels can be rod mounted, board mounted, hung from medallions or add detail to a cornice board by overlaying it with a panel. WindowWears Inc specializes in all kinds of drapery panels, any width or length.

Gathered Drapery panels with tiebacks

Functional Ripple fold Panel

Tab Panel with rouched cuffs

Grommet Panels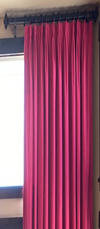 Pleated Stationary Panels

Medallion panels
Simply put cornices are a wooden box, padded and covered with fabric. But.....there is nothing simple about a cornice! Cornices can be dressed up or dressed down and compliment any style whether it is traditional, contemporary, minimalist, rustic or Victorian. Add banding, trim, tufting or nail heads to create a style all your own. Change the cornice style by changing the shape with steps, arches, bows. You can also add any size welt or no welt at all. Cornices can be hinged to fit in a bay window, a box window or bow window. WindowWears Inc can custom build your cornices to your design.

Detail of Nail heads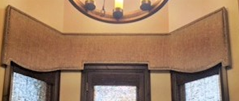 Bay window hinged cornice with nail heads

Arches and shapes

Arches and shapes

Arches and shapes

Inlays with trims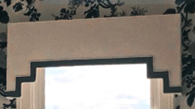 Steps with contrasting band
How do you put a limit on the possibilities Roman Shades offer? Flat, front or back doweled, Para fold roman shades, relaxed roman shades, Austrian shades, and balloon shades. Motorized, top down bottom up, spring roller or clutch lift systems. Sheer, black out or light filtering, banded, trim, valances. You are only limited by your imagination. WindowWears Inc offers a full range of shade styles and lift systems.

Front Doweled Roman shade with valance

Parafold Roman Shade

Flat roman shade

Relaxed Roman Shade

Banded Doweled Roman Shade

Sheer Roman Shade
Valances offer the ability to add form to a room with fabric, color and warmth. With valances, you have unlimited possibilities for every room and every décor style. Elegant, rustic, traditional or contemporary, minimalist or dramatic. Swags, pleated, arched or straight. Use valances to draw your eye to add height to a short window, or stop your eye to bring down a tall ceiling. WindowWears Inc will help you crown your windows with style and color.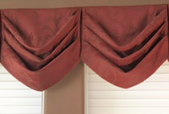 Handkerchief Valance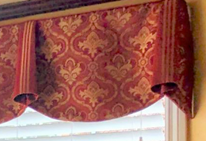 Imperial Valance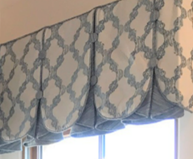 Eleanor Valance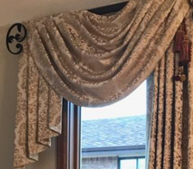 Rod Mounted Swag Valance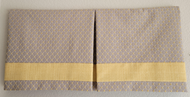 Banded Box Pleat Valance with inset banding
Finish the room completely by dressing the bed! WindowWears Inc offers coverlets, throws, shams, dust ruffles and pillows to finish your room. Coordinate your Drapery panels, cornice or valance by putting a matching or complimentary fabric on your bed. Ready-made just doesn't cut it! Ready mades only come in limited sizes and fabric selections, but with custom bedding, you are in control. Don't leave the bed undressed, order custom bedding and finish the job.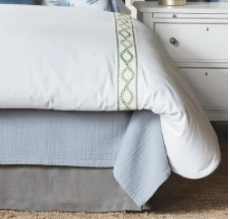 Dust Ruffles

Kick Pleat
Gathered

Box Pleat

Bed Scarves

Duvet Covers
Pillows
WindowWears Inc can help you complete your design by adding pillows. Pillows are a perfect compliment to any room! Shams to go with your custom bedding, throw pillows for your sofas and chairs. Custom pillows are a finishing touch.

Cushions
Window Seats, dining chairs, benches, banquettes or outdoor seating. Soften your life with cushions. WindowWears Inc provides custom cushion to fit every and any area.